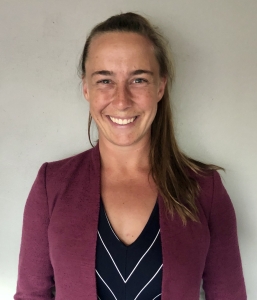 Department of Geography
University of California, Santa Barbara
Leads partnership work for the water program at Ceres, a nonprofit organization
Katalyn (Kate) Voss currently leads partnership work for the water program at Ceres, a nonprofit organization working with the most influential capital market leaders to solve the world's greatest sustainability challenges. In her role, Kate identifies and maintains strategic partnerships – including with NGOs, investors, and funders – to support efforts to address the most severe and systemic risks to freshwater resources around the globe.
Prior to Ceres, Kate advised on a range of Federal science policy issues as an Associate Program Officer at the National Academies of Sciences, Engineering, and Medicine and while serving as the American Geophysical Union/AAAS Congressional Science Fellow in the office of U.S. Senator Tom Udall. In her previous work, she collaborated with international nonprofits, scientists, and decision-makers on water management projects ranging from water supply and climate hazard assessments in the Himalaya (dissertation research and work with The Mountain Institute) to water risk mapping for the private sector (Aqueduct at World Resources Institute) and science-driven diplomacy in the Middle East and California (UC Center for Hydrologic Modeling).
Kate earned her Ph.D. from the Geography Department at UC Santa Barbara and her B.S. in Science, Technology, and International Affairs from the School of Foreign Service at Georgetown University.
Citations:
Kargel, J.S., G. J. Leonard, D. H. Shugar, U. K. Haritashya, A. Bevington, E. J. Fielding, K. Fujita, M. Geertsema, E. S. Miles, J. Steiner, E. Anderson, S. Bajracharya, G. W. Bawden, D. F. Breashears, A. Byers, B. Collins, M. R. Dhital, A. Donnellan, T. L. Evans, M. L. Geai, M. T. Glasscoe, D. Green, D. R. Gurung, R. Heijenk, A. Hilborn, K. Hudnut, C. Huyck, W. W. Immerzeel, Jiang Liming, R. Jibson, A. Kääb, N. R. Khanal, D. Kirschbaum, P. D. A. Kraaijenbrink, D. Lamsal, Liu Shiyin, Lv Mingyang, D. McKinney, N. K. Nahirnick, Nan Zhuotong, S. Ojha, J. Olsenholler, T. H. Painter, M. Pleasants, Pratima KC, QI Yuan, B. H. Raup, D. Regmi, D. R. Rounce, A. Sakai, Shangguan Donghui, J. M. Shea, A. B. Shrestha, A. Shukla, D. Stumm, M. van der Kooij, K. Voss, Wang Xin, B. Weihs, D. Wolfe, Wu Lizong, Yao Xiaojun, M. R. Yoder, and N. Young (2015), Geomorphic and geologic controls of geohazards induced by Nepal's 2015 Gorkha earthquake, Science, aac8353, Published online 16 December 2015 doi:10.1126/science.aac8353
Grants, Awards and Distinctions:
Recipient, P.E.O. Scholar Award. 2017. $15,000.
Recipient, American Geophysical Union Horton Hydrology Research Grant. 2016. $10,000.    
Fellow, Robert and Patricia Switzer Foundation Fellow. 2016. $15,000.
Recipient, UC Santa Barbara Department of Geography Leal Ann Mertes Scholarship. 2016.
Fellow, National Science Foundation Graduate Research Fellowship Program.  Voss, Katalyn (Faculty advisor: David Lopez-Carr). "Successful Community-Based Water Adaptation: Finding Solutions through Coupled Human-Environment Research in Nepal".  $96,000 over 36 months.
Intensive Nepali, Foreign Language and Area Studies (FLAS) Fellowship administered through Cornell University South Asia Program for U.S. Department of Education.